We decided to retain 4 routes that we particularly appreciate the fact they are affordable for beginners who will adore the greatness of the landscapes and also the ease at the level of the effort.
The iles de Lerins - Easy Level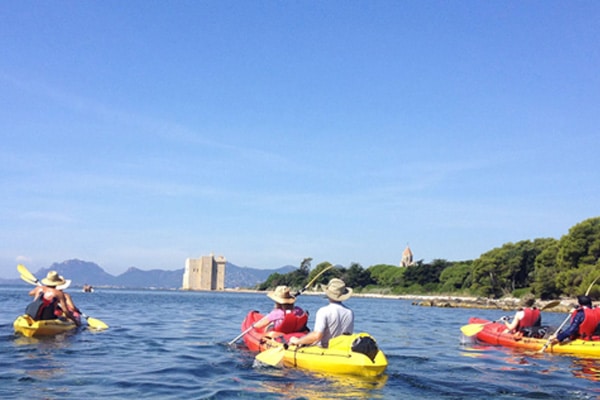 Very certainly, the most mythical of our hikes! Embark and navigate freely along the beaches, coves, cliffs and historical sites.
A true discovery and a breathtaking view on these well-known sites and which are part of the heritage of the French Riviera.
Theoule Sur Mer - Anthéor and its beautiful coves - easy level
Navigate in stunning landscapes, isolated coves where you will be the only benefit, an unforgettable ride in total harmony with the fauna and the flora, Paradise of the kayakers, the journey that we are proposing is a rosary of rounded rocks, red, pink, green, bluish, that interrupt  the beautiful coves with blond or white sand, depending on the vagaries of this nature full of marine scents and plants.
This kayaking, will be interspersed with a lunch break in a creek or you can indulge in the swimming with palm and snorkel in order to discover the beautiful seabed. This day will make you discover the wild coastline of the French Riviera under a new angle.
The indescribable beauty of a dream day... The Trayas Easy Leve
This beautiful homelessness will allow you to discover in a heavenly setting all the magic of the Mediterranean Sea. The majestic mountain chain plunging into the sea
A sensation to be alone and to live an extraordinary experience, your guide will take you explore a cave accessible as in Kayak… A lunch break in a place that only your guide knows, where guests can relax and discover the swimming with a mask and a snorkel which will make you discover a very rich fauna with multiple colors…
A day… To live and share!
Important, you need to know that each hiking performed and framed by the team of Go kayak is carefully studied and tested, this means that the courses are adapted to the level of the practitioners , the weather is studied during the last three days before your outing. The trip is systematically canceled if all the conditions are not fulfilled so that your day may be a successful one.